Posted By paul plutae on 2/23/2010 at 12:40 PM

If anyone would like to check my conclusions, please do, I could have blown it in the calcs.

The Block - Lots 62 through 117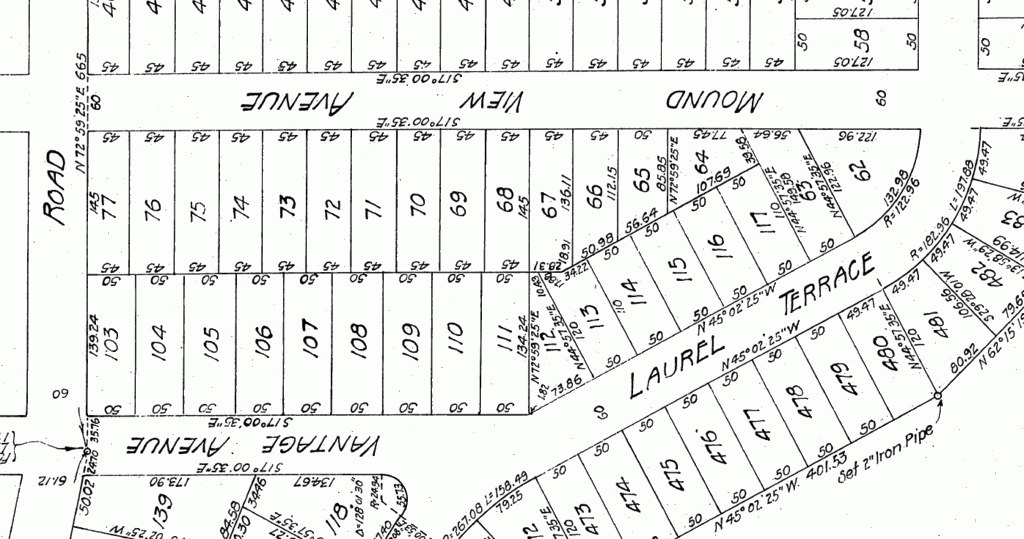 North is screen left. 

According to what my pea brain has come up with, the block closes fine...math hits 0.02' using record.

One very evident problem is the 139.24' distance at lot 103 and the 134.24' distance at lot 111. The 139.24' value works and the assessors office also shows that value, so that scriveners error has been taken care of.

The problem lots seem to be lots 64 - 67 and 112-113. 

That small distance of 1.82' at lot 112 is not clear on the record map as far as which line it is assigned to, but it works with the sideline of Vantage, that's where the 0.02' block closure is.

Anyway, I held the 110 ft depth along Laurel Terrace for lots 114-117 to establish that rear line for intersections.

We, Calif LS's, have a provision where we can file a Certificate of Correction that will take care of scrivener errors like this. It does not solve problem monuments that may have been set using just record values for the problem lots, but that's another side of the fence and really not relevant for this problem. 

I am kinda looking at approaches that others would take to arrive at lot dimensions for the problem lots. I think that a few valid solutions could be generated.